Last year, we came across the fact that NSA collects almost 200 million text messages every day. That is when we realised that our privacy was indeed being invaded. The truth is, we live in an age of internet surveillance and data logging, where companies do almost anything to get our personal information. Thankfully, there has been a rise in secure messaging apps, which focus on keeping our privacy intact through end-to-end encryption and other ways.
Well, we explored various messaging apps that claim to be secure and found the best secure messaging apps among them. But first, let's talk about why there's a need for secure messaging apps.
Why we need secure messaging apps?
There are a number of reasons as to why we need secure messaging apps. In a test conducted by the Electronic Frontier Foundation, most of the popular messaging apps (BBM, Facebook Messenger, Hangout, Kik Messenger, Skype, Snapchat, Viber, WhatsApp, Yahoo Messenger) we use, failed to tick most security standards. This suggests that while these apps are great, the companies might be using our conversations as an information to target advertising in a better way. Moreover, reading our private conversations is certainly an invasion of our privacy.
Along with our personal privacy invasion, there are various industries where secure messaging apps are a must. Legal & Advisory firms need the best in class secure messaging apps because they wouldn't want their client's sensitive info to leak out. Health care is another industry where secure messaging apps is a must to protect patient information from leaking out to everyone. Finance, Banking and Insurance industries too need secure messaging apps because the information they share is very confidential indeed and they need to be sure about sending such sensitive information on an app.
These are surely good enough reasons to suggest that we indeed need secure messaging apps that give our privacy the priority. Thankfully, we have found some great secure messaging apps for you. Check them out:
Best Secure Messaging Apps that keep your chats private
Threema
Threema is one of the most popular secure messaging apps available today and deservedly so. It does what it's supposed to do, that is keeping data out of Governments, corporations and hackers hands. Threema brings end-to-end encryptions of messages, group chats, media shared and even statuses. The developers have also made sure that your privacy remains intact no matter what, as it deletes any messages on the server once they are delivered while other details like groups & contacts are stored on device's local storage. To use Threema, you don't need an email id or phone number and the app provides you a unique Threema ID.
Along with the security features, Threema is a comprehensive messaging app, thanks to some really unique features like poll, ability to send most file types (pdf, gif, doc, mp3, zip etc..) along with the usual features like sending texts, voice messages and more. Threema also has a transparent privacy policy unlike most big corporate giants. It is available for Android, iOS and Windows Phone for a nominal price tag.
Compatibility: Android 4.0 and up, iOS 6.0 or up, Windows Phone 8 and up.
Signal Private Messenger
Signal Private Messenger was released earlier this year and it brought functionality from the two older Open Whisper Systems apps, TextSecure and RedPhone. Along with Threema, Signal is one of the most downloaded secure messaging apps and it too deserves all the attention. Signal Messenger is an open source secure messaging app, which aims at making sure people don't worry about their security and privacy while conversing with their loved ones. Signal does use your phone number but all your conversations are end-to-end encrypted and even the apps' servers don't store any of your chats. Signal claims that none of your data is stored with them. It is also the only open source messenger that uses cryptographic protocols to keep your messages safe.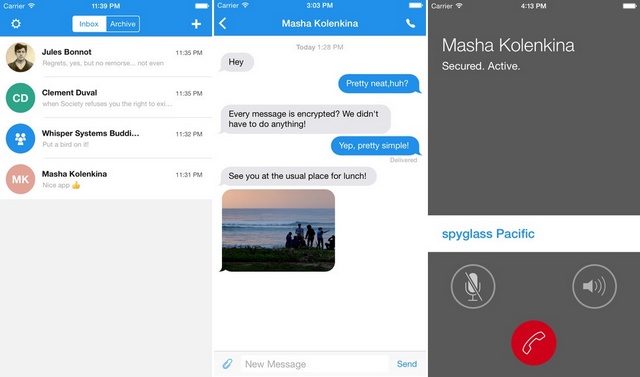 On the messaging front, Signal is a highly capable messenger with ability to send texts, voice messages and even make voice calls. There are other features like highly encrypted group chats, archive functionality and more. Moreover, Signal Private Messenger is totally free to use, so give it a try!
Compatibility: Android 2.3 and up, iOS 8.0 or up.
Telegram
Everybody is pretty well acquainted with Telegram, the very popular WhatsApp competitor. Telegram's ticks all the boxes when it comes to being a secure messaging app, thanks to its "Secret Chats" feature. Telegram is a secure messaging app but its Secure Chats bring end-to-end encryption along with the ability to send self destructing content like texts, media and files. Even without the Secret Chats feature, Telegram brings encryption to all your data.
Along with being secure, Telegram is a highly capable messaging app that's available on most platforms including a web version and it can go toe to toe with any other messaging app when it comes to features. It's fast, reliable and packs in all the features like large group chats, broadcasts, file and media sharing with no size limitations. It also features cloud syncing so that you don't lose your chats even when you are changing your devices. Telegram is available for free and there are no subscription fees either.
Compatibility: Android 2.2 and up, iOS 6.0 and up, Windows Phone 8 and up.
Wickr
Wickr – Top Secret Messenger, as it likes to call itself is another messaging app that aims to bring a secure chat experience. Most of its features are aimed to make you feel more secure. It brings end-to-end encryption of texts, voice messages, videos and pictures. It also includes a "Shredder" feature that irreversibly deletes all your chats, media content from your device. There are a number of other security features like anonymity when it comes to Wickr ID, no metadata information, ability to set an expiration time on all messaging content and more. Wickr also claims to not read any messages of yours, not collect any of your personal info and does not own the media or text you send on Wickr.
Wickr seems pretty impressive as a secure, private communication platform and it's no slouch when it comes to messaging features. You can send texts, audios, images, videos and create groups, which are a little limited with only 10 contacts per group. It also supports cool stickers, graffiti and cool photo filters. Wickr is available for free on Android, iOS and PC platforms like Windows, OS X & Linux.
Compatibility: Android 4.0 and up, iOS 7.0 and up, Windows 7 or up, OS X 10.8 or up.
Surespot
Surespot Encrypted Messenger might not have the best user interface among secure messaging apps but its security & privacy features are solid indeed. Every message sent using Surespot is end-to-end encrypted with symmetric key encryption. According to Surespot, whatever you send to a person will only be read by that person, Period. That's quite a bold claim but Surespot's encryption details do look promising. You have total control with the app and you can have multiple identities for different people.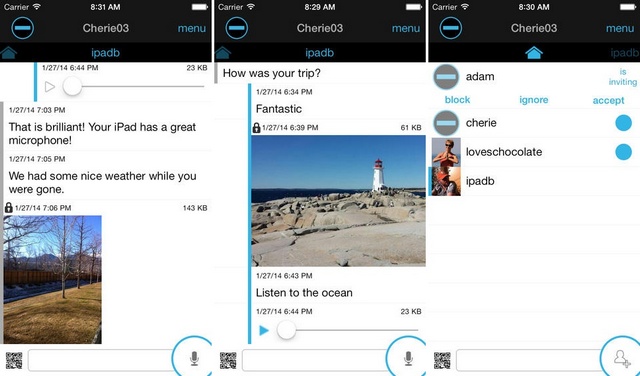 Surespot also features voice messages that are encrypted the same way as text messages, so nothing to worry about here. It might not be very feature rich on the messaging front but it gives you the promise and confidence to send any message without any worries. Surespot Messenger is open source and free although there are some in-app purchases for features like voice calls.
Compatibility: Android 2.3.3 and up, iOS 7.1 or up.
ChatSecure
ChatSecure takes various measures to make sure there are no loopholes in your security and privacy needs. The secure messaging app features OTR (Off-the-record) encryption over XMPP (Extensible Messaging and Presence Protocol). You can enter your Facebook or Google accounts to use it or create an account on public XMPP servers. The app also gives you the ability to use your own server for your account, so you don't have any doubts about your info. ChatSecure uses open source cryptographic libraries and its source code is auditable as well. It also uses SQLCipher to encrypt conversation logs locally on your device's storage.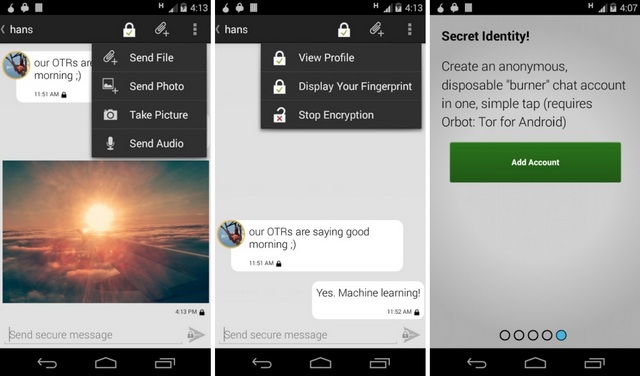 ChatSecure's security and privacy features might be a little confusing but they are very strong indeed. The app uses everything there is to make sure you have a secure chatting experience. On the messaging front, it features the usual features like ability to send text, audio, files, images, video and more. It's available for free on the Google Play Store and iTunes.
Compatibility: Android 2.3 and up, iOS 7.0 or up.
Cyber Dust
Cyber Dust is a cool secure messaging app, which along with security & privacy brings features that are pretty sleek. It likes to call its messages Dust and broadcast messages Blast. All the Dusts and Blasts are heavily encrypted and are never stored in a permanent storage. The app along with others on this list prevent screenshots as well. The messages disappear within 100 seconds or in 24 hours, if it remains unopened by the recipient. Every Cyber Dust message is encrypted with its own unique 128-bit AES encryption along with added security through RSA 2048-bit key.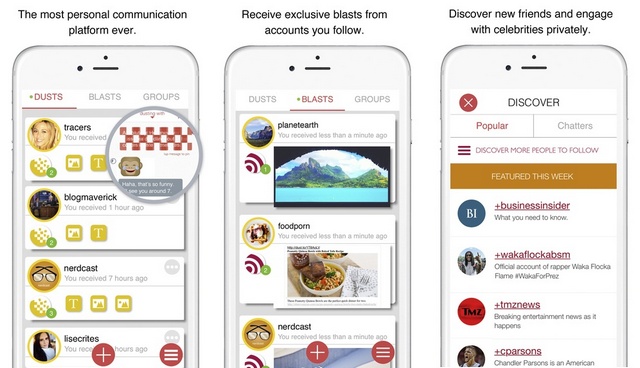 Cyber Dust is a social media platform as well as being a secure messaging app, as it lets you follow people. You can send your followers a blast or create a group of people with similar interests. It also brings you exclusive content from celebrities along with news that might interest you. To sum things up, Cyber Dust is a secure messaging as well as a secure social media community platform.
Compatibility: Android 4.0.3 and up, iOS 8.0 and up, Windows Phone 8 and up.
Give these Secure Messaging Apps a try!
Our security and privacy is of paramount importance but as we mentioned, not everyone takes it seriously. It's true that if we take things seriously, we will not be able to enjoy our favourite apps and services. There's also a problem with these secure messaging apps, that is we don't have enough users on them to converse with. Well, if you and your friends & family are aware of the security issues and they are willing to jump ship to a more secure messaging app, then these apps should come in pretty handy.
You should definitely check out these great secure messaging apps and do let us know your experience, as we love to hear from you.